A multiyear series of exhibitions and public programs featuring artists exploring San Francisco's status as a Sanctuary City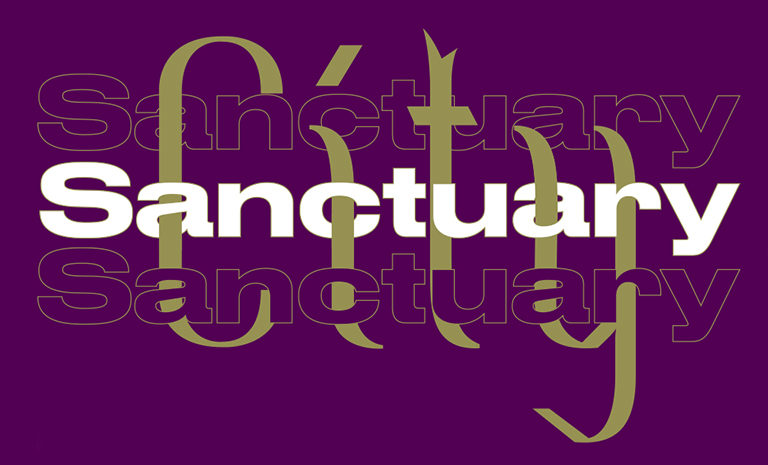 Sanctuary City was a multiyear series of public programs and exhibitions examining what it means for San Francisco to be a sanctuary city our current political climate. Loosely defined as a jurisdiction that welcomes refugees and immigrants, San Francisco declared itself a sanctuary city in 1989 with the intention of providing access to municipal services to all residents regardless of immigration status, to ensure a safe and inclusive city for everyone. From 2017-2019, the SFAC Galleries presented three exhibitions, eight public programs, and countless events dedicated to looking at the immigrant experience from many perspectives in an effort to illuminate the significant contributions immigrants have made to this city.
Exhibitions
With Liberty and Justice for Some
March 25-April 8, 2017
Conceived in response to the 2016 presidential election, this exhibition featured over 125 portraits of immigrants to the United States by 100 artists from Los Angeles and the Bay Area. Presented in partnership with Walter Maciel Gallery in Los Angeles. Curated by Monica Lundy

Executive Order: Poetic Erasures
April 27-June 15, 2018
Executive Order: Poetic Erasures was an exhibition of work by first and second generation student artists from Balboa High School that highlighted their own perspectives on immigration. Lead Artist: Ingrid Rojas Contreras

side by side/in the world
July 12- September 14, 2019
side by side/in the world looked to the sanctuary movement of the late-1980s as a starting point to considering sanctuary both in the places we find it and the ways we make it today. Curated by Jacqueline Francis and Kathy Zarur. Artists include Eddie Aparicio, Esther Elia, Sheila Ghidini, Asma Kazmi, Yoon Lee, Crystal Liu, Lisa Solomon, Lauren A. Toomer, Alberto Toscano, and Pamela Z.

Public programs
Sanctuary Rising
Tuesday, April 24, 2018
Sanctuary Rising featured a film screening by documentary film director Theo Rigby followed by an expert panel addressing the history of the faith-based Sanctuary movement in San Francisco. Panelists include Mayor Art Agnos, Jose Artiga, Deborah Lee, and Michael Pappas.

Sanctuary Print Cart
Saturday, May 5, 2018
Continuing their ongoing work investigating the stories of undocumented immigrants under San Francisco's Sanctuary City policy, artists Sergio de la Torre and Chris Treggiari brought their mobile print cart to San Francisco's Mission District to print and give away hundreds of posters with phrases taken directly from the immigrant stories they have been collecting for over a decade.

Santuario / Sanctuary / Vil Sanktyè / مدينة ملاذ /圣所城市 / Santuwaryo
Friday, May 18, 2018
An evening of performances and perspectives on the theme of sanctuary features spoken word, story, video, and song in defense and protection of immigrant rights. Organized by Sandra García Rivera. Performers include Yujane Chen, Jade Cho, Deuce Eclipse, Juliana Delgado Lopera, Vero Majano, Jeff Pierre, and Naima Shalhoub.

Centennial Reckoning: Work in Progress showing
Tuesday, May 29, 2018
A work in progress performance bringing to light the untold stories of LGBTQI+ and immigrant service members from WWI to today. Directed by Krista DeNio. Performed by Jesselito Bie, Malia Byrne, Chloe Crotzer, Stephen Funk, Adrian Gebhart, Hien Huynh, Rae Raucci, and Kristen Rulifson.

Crisscrossing Borders
Thursday, June 7, 2018
A panel discussion exploring the successes and challenges of creating new work as an insider and/or outsider. Organized by Jason Hanasik. Panelists include Jose Alfaro, Krista DeNio, Amber Hoy, Michaela Leslie-Rule, and Rory Padeken.

Creating Amulets & Talismans for our Communities in a Time of Danger
Saturday, August 18, 2018
Artist Weston Teruya led a hands-on workshop where participants created small, talismanic objects or amulets while also highlighting the personal stories, processes, and gestures that imbued them with meaning.

Tomorrow We Inherit the Earth: Revealing Queer Muslim Futures
Thursday, September 6, 2018
In response to the West's oversimplified understanding of Islam, this futurist evening used fashion, performance, video, and sound to explore and challenge the histories of violence, colonialism, and imperialism enacted on Muslim bodies. Organized by Zulfikar Ali Bhutto (aka Faluda Islam). Performances by Faluda Islam, Luke Arroyo Mendoza, Maryam Rostami, and Saba Taj, DJ Arshia Haq, and Discostan.

Song4Sanctuary
Monday, November 26, 2018
In Song4Sanctuary artists Sofia Córdova and Matthew Gonzalez Kirkland (aka XUXA SANTAMARIA) composed and performed an experimental score created using popular musical traditions from the various diasporas under sanctuary protection in San Francisco and its environs. The piece, performed under the rotunda of City Hall, was accompanied by movement from dancer Stephanie Hewett.
Sanctuary City Partners